Mother's Day Mania!!!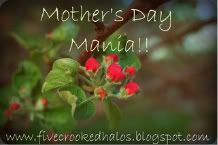 Dear Princess M,
As I write this letter to you, I have Billy Joel playing in the background and I am thinking of my own mom. I wish she could be here to know you. She would love to hear you talk about your love of reading (which you no doubt got from her!!). Or about your friends at school, and how much you love cheerleading. Or that they are cleaning out the city pool and how you just can't wait till it opens!!!
I have to admit I also wish she was here so I could ask her if she thinks I'm doing an OK job with you. I try so very hard to make sure you feel loved and safe. I hope someday you look back on your childhood and smile.
You are the one that gave me the name "Mommy" and the sound of it is so sweet, it truly melts my heart. I want to leave you with my alltime favorite quote, then I gotta run cause you want to play connect four!!
"The moment a child is born,
the mother is also born. She never existed before. The woman existed,
but the mother, never. A mother is something absolutely new."
You are my world, my heart and my life. You and your brother are truly the reason I am here.
xoxoxoxox